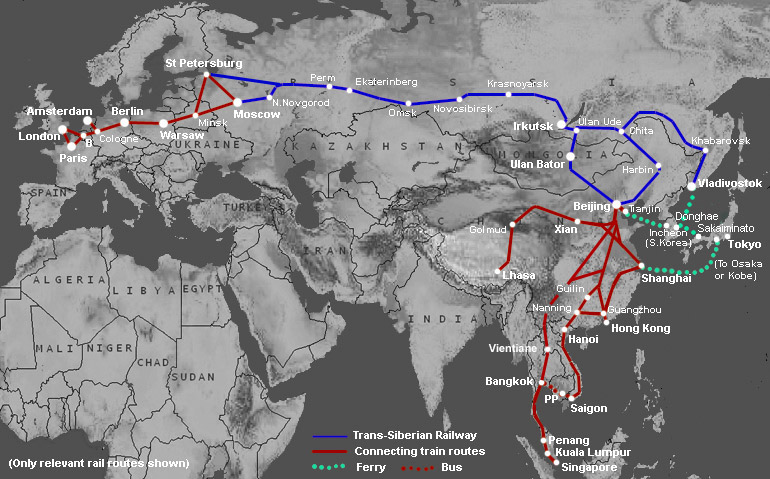 Podróże w ostatnim miesiącu były jednymi z najwspanialszych w moim życiu i mogę je zaliczyć do tych doświadczeń, które w znaczącym stopniu zmieniły moje życie. Torba podróżna jest pełna adresów email zapisanych na małych skrawkach papieru i pełna małych papierków i notatek które są przesiąknięte kodami moich wspomnień i składają się na mój własny sekret.
Były chwile, w których myślałam, ze to moja ostatnia podróż życia (w Pekinie, kiedy wsiadłam do samochodu z nieznanym mężczyzną); były też chwile kiedy czułam się tak szczęśliwa że miałam ochotę zostać w pewnych miejscach na zawsze (w Petersburgu podczas spacerów wzdłuż Newy).
Brak prysznica przez kilka dni w kolei trans syberyjskiej ( podczas burzy piaskowej kurz wymieszany z potem i stechłym powietrzem pociągu dawał bardzo nieprzyjemny zapach), przepiękne cerkwie w Moskwie, apartament na jedenastym piętrze z ogromnym oknem wprost na fantastyczny zachód słońca, noc w pijanym pociągu z Olgą i butelką piwa w ręce, jedzenie reniferów w Helsinkach i wieczór spędzony w saunie w podziemiach bloku...
Było fantastycznie.
-----------------------------------
Journeys during the last month where one of the most wonderful of my life and one of those which may be labelled as life-changing experiences. My bag is full of email addresses written on small pieces of paper and of small leaflets and notes that are sunk with coded memories that make my own secrets.
There were moments when I thought that it would be the last journey of my life (in Beijing when I got into a car with unknown man ) and there were moments when I was really happy and hoped to stay in some places forever (in St. Petersburg when walking along Nave river).
No shower for few days on the Trans-Siberian Train (during a sand storm frowsty train air mixed with dust and sweat gave very unpleasant smell), beautiful Orthodox Churches in Moscow, apartment on 11th floor with huge window with a view over sunset each evening, a night on a drunk train with Olga and a bottle of beer in hands, eating reindeers in Helsinki and spending evening in sauna in a basement of a block of flats...
It was marvellous.

-ania- : :